The case for Guaranteed Basic Mobility
December 01, 2022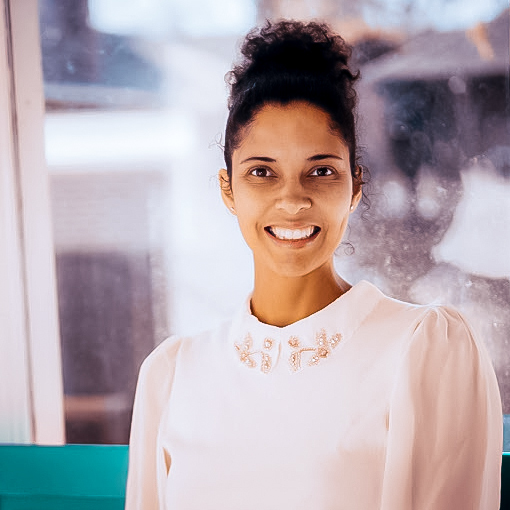 It's time to reframe how we think about transportation and mobility — the ability to move freely and participate in society is a basic right.
By Tangier Barnes Wright
Senior Partnership and Program Manager
PeopleForBikes
Editor's note: This text was first published online by PeopleForBikes on Oct. 17 and is shared in The Bike Lane with permission.
I did not grow up in a place where taking public transportation or riding a bike was common. In fact, taking the bus or riding a bike was sure to draw every ignorant, hurtful comment you can think of, from "Oh, that person must have a DUI," to "They must be poor." It was a place where getting around in any way other than a personal car was looked down on. Unfortunately, in the U.S., it's not an outlier. Cars are idolized and prioritized in this country, something that's only reinforced by the fact that our cities and towns have been built to facilitate personal car ownership and make living without one difficult.
For almost a century now, cars have been equated with worth and desirability — they've also become increasingly necessary for accessing daily basic needs. Unlike car ownership, which is subsidized by unfettered access to gas and abundant parking, our public transportation systems are expensive. For many, they're also difficult to access and can leave people feeling vulnerable and without dignity. If you can afford to use it, transit still often falls short when it comes to being able to efficiently access jobs, grocery stores, doctor's appointments, or even school. Likewise, if you can afford to live in a walkable neighborhood or own and maintain a bicycle, you still might feel unsafe due to a lack of safe and connected infrastructure.
Still, many people are dependent on public transportation, biking, and walking to access their basic needs and that percentage rises if we're talking about people of color or low-income populations. We also know that one in four U.S. adults experiences transportation insecurity, which has far-reaching effects. People experiencing transportation insecurity might not be able to keep a job, get to school, pick up their children, or bring home groceries. Mobility is a fundamental human right and it's necessary for a healthy economy. This is why we need Guaranteed Basic Mobility (GBM), also known as Universal Basic Mobility.
GBM is based on the idea that every person should have the resources they need to meet their basic transportation needs. In practice, it means economic mobility. In this country, the less money you make, the more you spend on transportation, making it difficult to escape poverty. Having access to affordable, reliable public transportation is a way to help reduce poverty and boost our economy. GBM recognizes the need to move freely and participate in society as a basic right, just one part of a staple of services provided by taxpayer dollars and the government. 
My desire to see GBM take hold nationwide is not unique. The concept has been considered for years and was the focus of a panel that I recently moderated for the 2022 Designing Cities Conference, hosted by the National Association of City Transportation Officials (NACTO) in Boston last month. It was a privilege to share the stage with two forward-thinking and creative women: Kim Lucas, senior project manager at the City of Pittsburgh, and Seleta Reynolds, chief innovation officer with the Los Angeles County Metropolitan Transportation Authority (previously, she was general manager at the Los Angeles Department of Transportation). Both have worked hard to make Guaranteed Basic Mobility a reality in their respective cities. 
In August 2022, Pittsburgh launched its Guaranteed Basic Mobility Research pilot program, which will provide up to 100 low-income residents with six-month access to all of the participating modes of transportation in Move PGH, a mobility-as-a-service collective that includes shared micromobility, car share, and transit. Los Angeles launched its pilot Universal Basic Mobility program in April 2022, offering residents in South L.A. a variety of mobility options for free or at a reduced cost.
For Lucas in Pittsburgh, the pilot is about breaking down the final barrier to mobility: cost. Some 20% of households in the city do not own a car. The pilot is helping people get where they need to go as affordably as possible by providing select residents with free and easy access to all mobility options. These options include but are not limited to the bus, ZipCar, and POGOH bike share. The year-long pilot is focused on the Manchester and Chateau neighborhoods, which have a median income 14% below the city as a whole. The pilot is funded by a $200,000 grant from the Richard King Mellon Foundation, as well as shared micromobility company Spin, which committed an additional $50,000 to the project.
For Reynolds, the Los Angeles pilot is about reducing poverty. South L.A. has a high proportion of households below the poverty line, as well as a large share of residents who rely on public transit (its population is also a majority people of color). Mobility options available to residents include an electric bicycle lending library, an on-demand community electric shuttle bus, an expanded electric vehicle sharing program, and a "mobility wallet" that provides a $150 monthly transportation subsidy to 2,000 residents. Funding for L.A.'s pilot comes from a STEP grant from the State of California Climate Investment Program and the City of Los Angeles, which approved an additional $4 million to enhance the pilot program for a total of $17.8 million.
Los Angeles and Pittsburgh aren't the only cities experimenting with UBM concepts, although pilots remain rare. Other examples include a pilot program in East Oakland, California, which launched in November 2020 with 500 prepaid cards that could be used for public transit, bike share, and e-scooters. The final report highlights the program's positive impact and a second pilot is currently underway. Another California program, launched in Bakersfield in 2021, was designed to reduce barriers to job access. The 12-month pilot provided free rides on Spin e-scooters or e-bikes to 100 disadvantaged youth aged 18 to 24. 
Speaking with Lucas and Reynolds, one thing that stood out was their belief that we need to reframe how we think about mobility. Like most things in the U.S., mobility has long been thought of as a way to make money rather than a human right. Transportation and mobility should be thought of and implemented as a service — as a means of investing in people and their ability to achieve success in this country. Only once this mindset takes hold can Guaranteed Basic Mobility truly become a reality. 
I hope that the California pilots, alongside the work being done in Pittsburgh, will help make the case for widespread adoption. I will wait with anticipation to read the final reports from Pittsburgh and L.A.'s research partners — Carnegie Mellon University and the University of California, Los Angeles, respectively — on how these pilots improved people's economic, social, and health outcomes. While the learnings thus far are promising, we need to achieve a stockpile of data for more cities to follow suit. If more places adopt Guaranteed Basic Mobility, not only will people's livelihoods improve but our communities will become more robust overall.
Signup For The Bike Lane Newsletter
---