PSS at ITS with Tome for Project Halo
January 26, 2023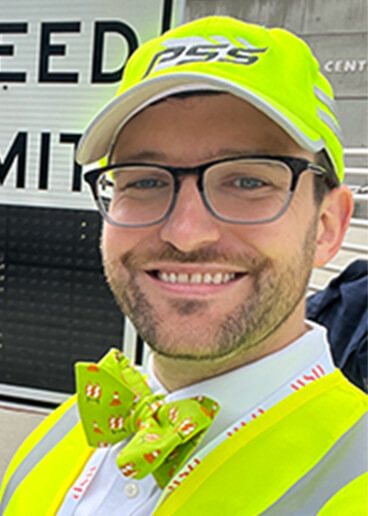 By Ben Gascoigne
Vice President and General Manager
PSS
ITS (Intelligent Transportation Systems) World Congress 2022 broke records with more than 6,000 registered attendees from different countries. Patrons descended on Los Angeles to experience educational programs and cutting-edge technology presented by industry leaders. It was an honor to be surrounded by innovators who are increasing safety and equitable mobility in our infrastructure and revolutionizing the transportation space. I was part of the PSS team introducing a new method for communicating road worker presence to motorists and the FHWA's Work Zone Data Exchange (WZDx) while also advocating for the inclusion of road workers in the vulnerable road users (VRUs) group.  
ITS America is an international not-for-profit organization dedicated to advancing the research and deployment of intelligent transportation technologies to save lives, improve mobility, increase accessibility and equity, promote sustainability and improve efficiency and productivity. Every year leaders from the public, private, academic and research sectors convene to showcase and foster innovation that will further this mission.
After 40 years of developing and bringing trusted, innovative road safety products to market, PSS is moving to overlay technology on PSS' reach into work zones. PSS is working to develop smart products that deliver data to the WZDx, direct to vehicles, and via third parties, to road users when approaching a work site. In collaboration with a large auto manufacturer, PSS and Tome had the opportunity to demonstrate wearable and V2X technology identifying road workers' presence in work zones, receive real-time feedback and advocate for road workers.  
Actions must take place to protect road workers. According to a 2021 survey conducted by the Associated General Contractors (AGC), 60% of highway contractors report crashes at their work sites; projections only show this number rising. One way to increase the safety of work zones is with variable speed limits.
Currently, speed limit reductions are often active even when workers may not be present at the site, leading road users to slow down "for no reason." Over time, motorists have begun to disregard speed limit reductions, disbelieving that the notification is evidence of actual road worker presence. This leads to travel at sustained speeds while entering work zones, contributing to work zone crashes. PSS envisions smart, wearable and device-mounted technology integrated into work zones, funneling real-time data into WZDx feeds and dynamically reducing the posted speed limit only when workers are truly present at the construction site.
We demonstrated this technology during exhibit hours in the hall by placing the wearable technology, the "Home Base" unit and an actual Variable Speed Limit sign at the entrance of the ITS World Congress. By having open discussions with attendees, we gathered valuable insights from other industry leaders that will come in handy as we progress with the project. If you are interested in following the development of this technology and potentially serving as a pilot location, please send an email to SmartCities@PSS-Innovations.com. 
Signup For The Bike Lane Newsletter
---